t
About Serpent Autosport:
Serpent Autosport
was established to make available to other Alfa owners a 16" alloy wheel option. My quest to find the perfect wheel for my 1966 Duetto Spider started soon after acquiring the car in 1977. Needless to say, finding wheels for Alfa Romeo's was not so easy. Particularily in the 5-bolt design. Today, many of the best styles offered by the aftermarket are out of production and no longer available. Those that are still available are rather common and do not suite eveyone's tastes. The styling of the classic Alfa Romeo's do not lend themselves to many of the newer wheel styles. There are the custom wheel manufacturers, who can build wheels to fit any vehicle's requirements for width, offset, and bolt pattern. These wheels are excellent, but are expensive as well. Serpent Autosport was poised to fill the niche in the middle. After successfully offering the Type I and then Type II wheel, we now have three wheel styles in the correct PCD and up to 18" in diameter!
The requirements for the perfect wheel are: To maintain the stock outside tire diameter, have the correct offset and backspacing so no rubbing occurs, and be able to use a modern low profile high performance tire. Lastly, and just as important, it must compliment the unique and classic design of the car.
My interest in sport cars began when I first saw this old photo. My grandfather is pictured here with my grandmother in his new car. Papa DiMarco told me how he use to race this 1927 Chrysler G-70 roadster over the old Ridge Route from Los Angeles to Bakersfield in the late 1920's. The match races were set-up and run at night and there was always money on the line!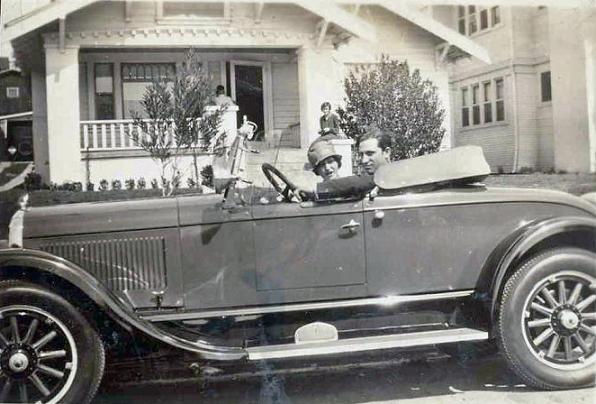 In my pursuit of the perfect wheel I made contact with a manufacturer who was interested in this project. And after working out the details I made available the Serpent Autosport Type 1 alloy wheel
.
Type 1 discontinued
Shown is the Type 1 in 15" mounted on a 1966 Duetto Spider. My very first Alfa while in college.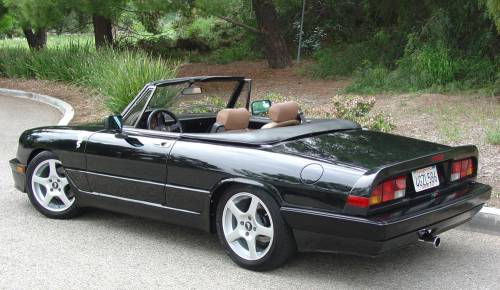 Type 2 discontinued

The Type 2 was a very attractive wheel and was very popular with Alfa owners. However, it too fell victim to the ever changing demand on aftermarket wheels.

Shown is the Type 2 in 16" mounted on an '86 Spider Quadrifoglio.





So, after a year long development period, Serpent Autosport is pleased to offer the Type 3 wheel!





This 5 star design features silver powder-coated center and a polished lip. It is also available in sizes to fit the GTV6, Milano, and 164 sedan.

Shown in 16" mounted on an '86 Spider Veloce (w/Quadrifoglio body kit) - a perfect match!.



Keep the rev's up!
Charlie DiMarco
serpentautosport@yahoo.com
---